Lord Coe says the decision to postpone the 2020 Tokyo Olympics and Paralympics has saved athletes from mental turmoil.
The Games have been postponed until next year in a decision supported by Coe.
"We didn't want to have the athletes in a position where they were countering government advice, maybe even breaking the law," the World Athletics president told TalkSport.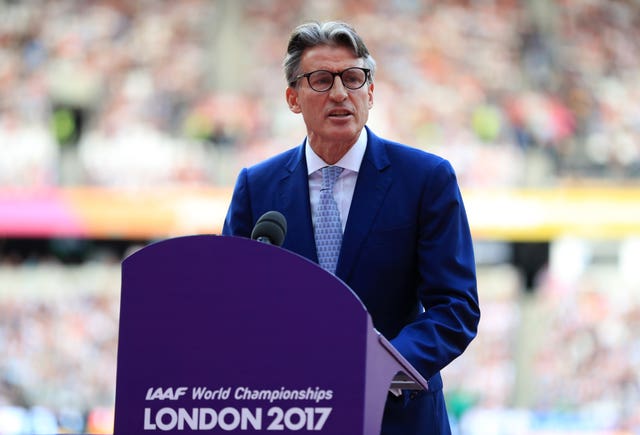 "And of course in the back of their minds was always that concern, it wasn't just their own training programme, but that they ran the risk of infecting themselves, their families, their kids, grandparents or parents. We just wanted to take them out of that mental turmoil as quickly as we possibly could.
"We're no different from everyone else out there but I think we just concluded that sport, on this occasion, had to take a back seat."
Anthony Yarde's father has died of coronavirus, the British light-heavyweight said.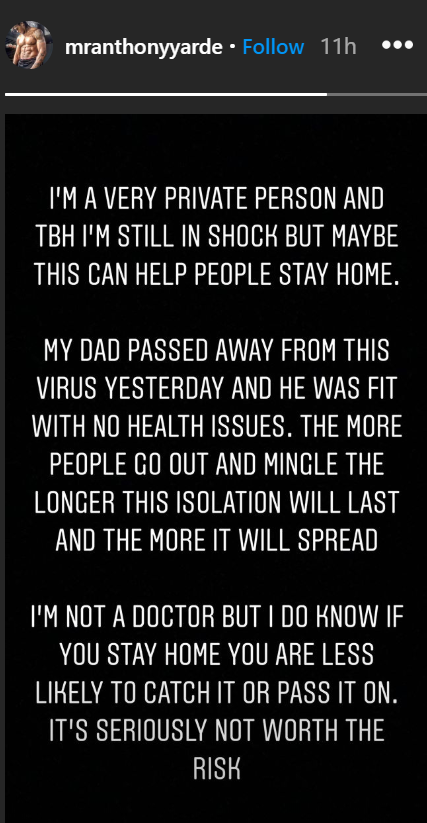 The 28-year-old fighter said his father had been "fit with no health issues" and urged people to stay at home in a statement released on Instagram.
Yarde wrote: "I'm a very private person and tbh I'm still in shock but maybe this can help people stay at home.
"My dad passed away from his virus yesterday and he was fit with no health issues. The more people go out and mingle the longer this isolation will last and the more it will spread.
"I'm not a doctor but I do know if you stay home you are less likely to catch it or pass it on. It's seriously not worth the risk."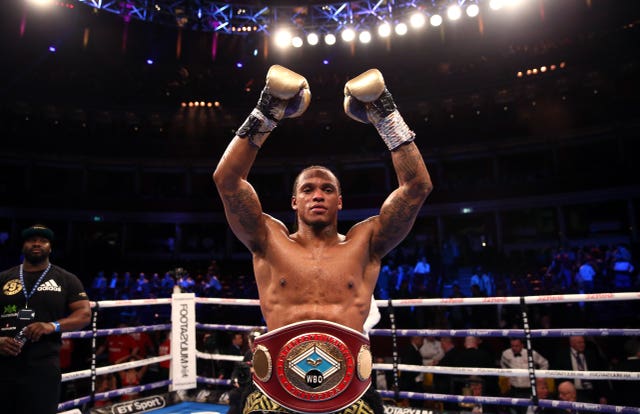 UK Athletics has called on West Ham to waive their tenancy rights for the London Stadium if there is the chance to stage the Anniversary Games this summer.
The event is scheduled for July 4 and 5, when any extended Premier League season could still be ongoing – giving West Ham first refusal under the terms of their tenancy.
New UKA chief executive Joanna Coates told the Sunday Telegraph: "In these unprecedented times, why is it football that always comes out – with all the money that slushes around in football – as the one that doesn't suffer? It just doesn't seem right to me.
"We've got athletes that have trained for an Olympic Games that they can't now go on to and we're trying our best to make sure that they still have some form of competition.
"If it's not safe for them then that's fine. But it doesn't seem wholly fair that football can have carte blanche – because of the money involved and broadcast deals – and push every sport out."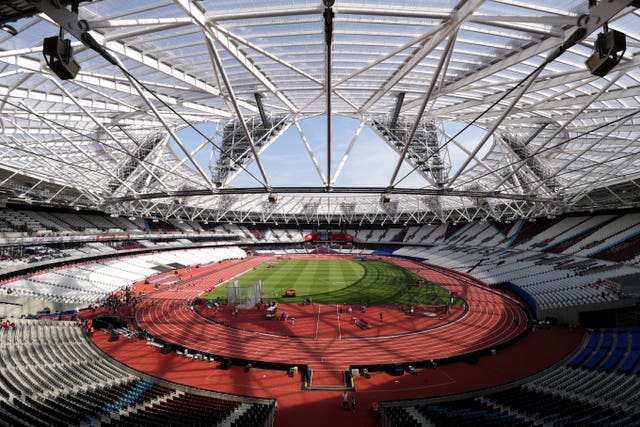 Darts player Kyle Anderson has tested positive for the virus after travelling back to Australia to be with his family during the pandemic.
His manager Mac Elkin said on Twitter: "I have just had a FaceTime call off Kyle telling me he tested positive for Covid-19, he is in good spirits but is now back in isolation on his own in a farm house in Mount Morgan.
"I will be having regular calls with Kyle so will keep everyone updated, it goes without saying that we all wish him a speedy recovery but it also stresses the need to follow the guidelines set out by the government, we need to beat this disease together as one."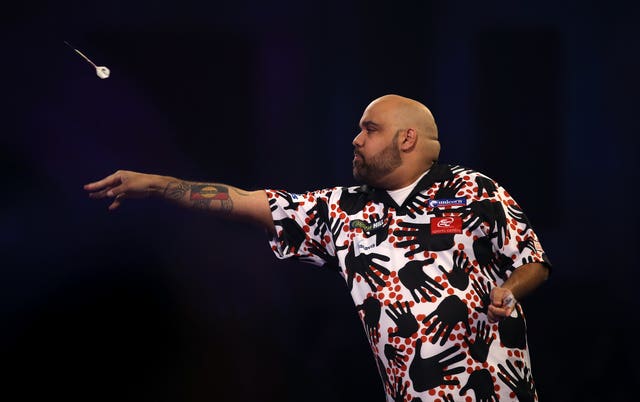 Tottenham forward Son Heung-min has returned to South Korea for personal reasons with the Premier League season on hold.
Son, who is recovering from a broken arm, left London on Friday with his parents and will spend two weeks in isolation as per the South Korean government's requirements after travelling from the UK.
Steven Bergwijn has also returned to Holland due to the impending birth of his first child.
A statement from Spurs read: "Both players will continue their individual rehabilitation and training programmes during their time away."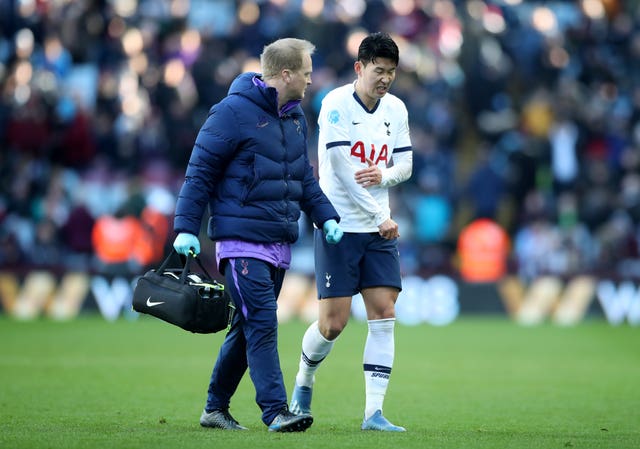 The Premier League, English Football League and Professional Footballers' Association met on Friday to discuss the economic implications of the suspension of the season.
There will be further talks in the coming week, with the projected restart of the season currently being April 30.
There remains a consensus to try to complete the current campaign, with the possibility of matches being played initially behind closed doors when it is deemed safe to do so.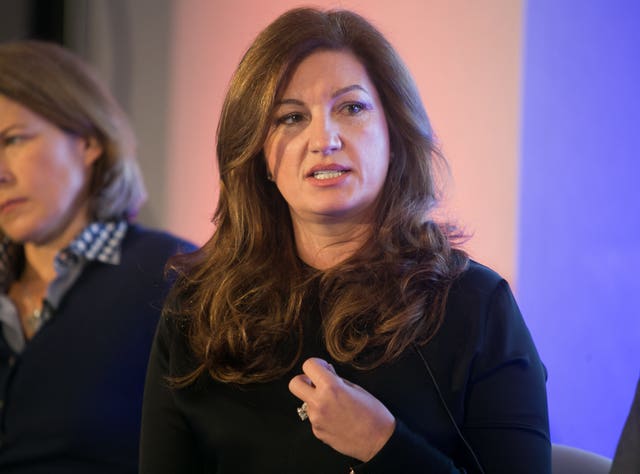 UEFA president Aleksander Ceferin accepts any firm forward planning is almost impossible given the current uncertain outlook.
Ceferin told Italian media outlet La Repubblica: "There is a plan A, B and C. We can start in May, in June or the end of June. If we can't do it on any of those three dates then the season probably would be lost.
"There is also the possibility to finish the season at the start of next season, with next season starting a little late. It would have to work with respect to the players and the signing periods."
In Italy, Juventus players have agreed to waive four months' wages due to the pandemic.
Cristiano Ronaldo and his team-mates, along with manager Maurizio Sarri, have agreed to a reduction in pay "equal to the monthly payments of March, April, May and June 2020", the Serie A giants said in a statement.
If the remaining games of the current campaign are rescheduled, Juventus said they would negotiate increases in pay for the squad.
Closer to home, no professional cricket will be played before May 28, which means the traditional start of the County Championship season – which was due to begin on April 12 – faces a lengthy delay.
The Ryder Cup between Europe and the United States is scheduled to be played at Whistling Straits in September, but still remains in doubt.
Ferrari boss Mattia Binotto feels Formula One could bring in shorter grand prix weekends and push on into January 2021 to put together a meaningful season.
Binotto told Sky Sport Italia: "We are assessing various ideas; races closer together, maybe doing two or three races in January, considering also the option of cancelling (Friday) practice."