England, Scotland, Wales, Northern Ireland and the Republic of Ireland will discover just how tricky a route they face to Euro 2020 when the qualifying draw takes place in Dublin on Sunday.
Gareth Southgate's side, who, as Nations League finalists, are among the top seeds, should be handed the smoothest path when the draw gets under way at 11am.
Wales are in pot two, while Scotland, Northern Ireland and the Republic are in pot three.
ℹ️ https://t.co/cyBkkTwHnG pic.twitter.com/jz4mwofkwe
— UEFA EURO 2020 (@UEFAEURO) December 1, 2018
Southgate's side are also guaranteed a spot in a five-team group rather than one with six sides, so they are able to play in next summer's Nations League Finals alongside Portugal, Holland and Switzerland.
The top two teams from each of the 10 groups will qualify for the tournament. England and Scotland are already guaranteed a play-off place should they fail to qualify automatically, by virtue of winning their Nations League groups.
Germany are the biggest danger lurking in pot two after their Nations League relegation.
Arguably the toughest draw England could face would be to find themselves in a group with Germany, Slovakia, Greece and Macedonia. A more straightforward draw – on paper at least – would see Southgate's team face Czech Republic, Israel, Georgia and the Faroe Islands.
— Germany (@DFB_Team_EN) November 29, 2018
Wales are in pot two, meaning they will avoid Germany, but Scotland, Northern Ireland and the Republic could end up with Joachim Low's former world champions, who will be out to recover from an awful year, as well as the likes of France, Croatia or Belgium from pot one. Poland, who were far from impressive at the World Cup and were relegated from League A of the Nations League, would appear the weakest of the top seeds.
UEFA draws are never that straightforward, though. The governing body has tried to give all 12 Euro 2020 host nations a chance of qualifying. Therefore, no more than two nations staging games can be in the same group.
That includes England, Scotland, Republic of Ireland, Azerbaijan, Denmark, Germany, Hungary, Holland, Italy, Romania, Russia and Spain.
"It's quite a complex draw this one and we're going to have to play a really good team from pot one," said Northern Ireland boss Michael O'Neill, who believes his side can take confidence from their Nations League campaign, even though it yielded four defeats from four games.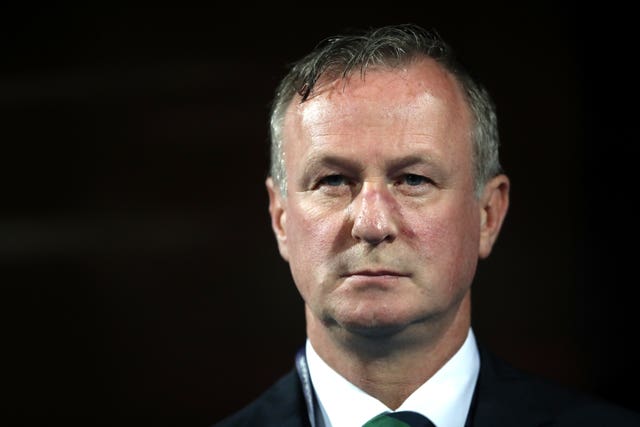 "In pot two, again, there are some very strong teams. I think everyone is looking at Germany in there and that's one we'd want to avoid.
"But I think what the Nations League showed was that we're more than capable of holding our own at that level. It is going to be very interesting on Sunday."
Scotland had a rather more successful Nations League, winning promotion from League C, and assistant coach Peter Grant says the Dark Blues are full of confidence.
"The first challenge for us was to qualify for the play-offs through the Nations League and we've done that," he said.
"The boys are full of confidence from the last two games and now our next challenge is to qualify from the group.
"I'm sure the boys will be relishing the challenge and hopefully we can take another step towards a major championship."
The finals will for the first time be staged across Europe in 12 cities from Baku to Bilbao. Wembley will host the semi-finals and final, while Dublin and Glasgow will also stage games.