The France v Ireland Six Nations match is the latest major sporting event to be postponed due to the coronavirus, as all domestic sporting action in Italy was suspended until April 3 at the earliest.
Ireland had been due to play the match in Paris on Saturday, but it will now not go ahead on the advice of the French government.
As it stands, the Wales v Scotland match is the only game in the final round of the Six Nations due to go ahead as originally scheduled, after the Italy v England game in Rome was postponed last week.
A statement from Six Nations Rugby read: "Following instructions received from the authorities in France, the decision has been made to postpone the Round 5 Guinness Six Nations match between France and Ireland.  We are still awaiting confirmation for the Women's and U20s fixtures."
All sporting activities at all levels have been suspended in a bid to contain the outbreak in Italy, the country's national Olympic committee (CONI) announced on Monday.
CONI's jurisdiction does not cover Italian clubs or national teams involved in international competitions, such as football's Champions League, but Italian prime minister Giuseppe Conte announced at a press conference on Monday evening that the whole country would be on lockdown from Tuesday morning.
Quoted on Gazzetta dello Sport, Conte said: "We cannot even allow the football championship matches to continue, sorry to say, but the fans must take note of it. Gyms must remain closed for sports activities. There will be a suspension of teaching activities until April 3, for schools of all levels and at universities."
The French health minister Olivier Veran announced on Sunday evening that all gatherings of more than 1,000 people are now prohibited in the country, meaning Ligue 1 matches must be played behind closed doors or in front of no more than 1,000 spectators.
Catalans Dragons are in touch with the local police and hope to have a definitive answer in the next 24 hours about whether their Super League game against Leeds, due to take place in Perpignan on Saturday, can go ahead.
Sports governing bodies in the United Kingdom attended a meeting with broadcasters and Government officials on Monday to discuss contingency plans in the event that advice around coronavirus changes here in the coming days or weeks.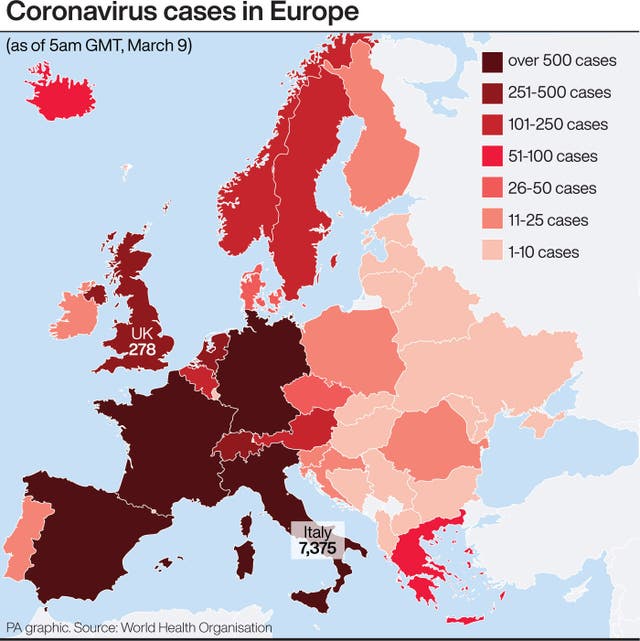 As of 9am on Monday, 319 people had tested positive for Covid-19 in the UK, while five people have died in British hospitals.
Rugby Football Union chief executive Bill Sweeney said there was "no medical rationale" as things stood to postpone sporting fixtures within the UK, or to play them behind closed doors.
"The basic message coming out of today is let's not panic, let's monitor the situation and carry on as normal," he said.
"It was a very good meeting. The start of dialogue together. There was no medical rationale for cancelling events or behind closed doors yet, but clearly it is a moving situation so we'll keep talking and go from there."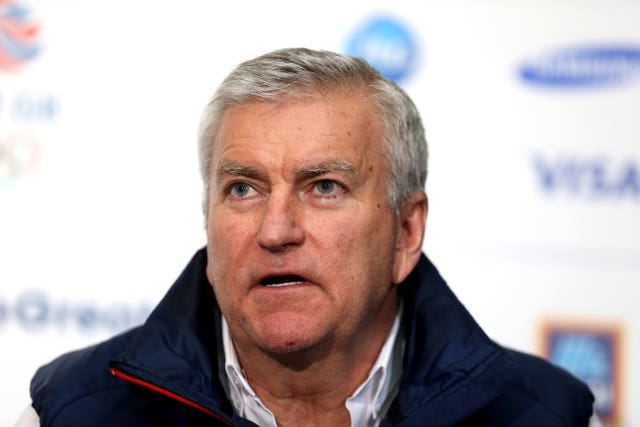 Premier League executive director Bill Bush was asked about the prospect of matches being played behind closed doors and added: "I am not going to comment on things that are speculative.
"You are better off waiting for the Cobra meeting to finish. They will have the national or sector view. This wasn't that kind of meeting."
Steve Elworthy, the director of special projects at the England and Wales Cricket Board also attended the meeting, and said as he left: "It was a fantastic meeting and this is the start of it.
"We are starting to think about contingency planning and it was a great meeting with all the sports around. We obviously can't get into any of (the detail) and don't want to because it is still business as usual in our world."
A spokesperson for the department of Digital, Culture, Media and Sport (DCMS) which hosted the meeting said: "Senior government officials chaired a constructive meeting of sports and broadcast partners, as part of sensible contingency planning in relation to Covid-19.
"This included a discussion of how staging sporting events behind closed doors could work in practice, should the situation change and become necessary. However based upon the current scientific advice from the Government's medical experts there is no rationale to close or cancel sporting events as things stand.
"We will remain in regular dialogue with sports governing bodies and broadcasters, ensuring they are in receipt of the most up to date guidance from the health authorities."
It is understood no ministers or clinicians were in attendance at the meeting.
The meeting is also understood to have considered what the possible knock-on effects of matches being played behind closed doors might be, such as increased numbers going to pubs to watch games on television and supporters gathering outside stadiums if not allowed inside.
The Champions League match between Paris St Germain and Borussia Dortmund on Wednesday night will go ahead behind closed doors, while RB Leipzig confirmed supporters would be able to attend their match against Tottenham on Tuesday night.
UEFA confirmed on Monday evening that Wolves' Europa League game against Olympiacos in Greece, and Roma's home clash with Sevilla, will be played behind closed doors on Thursday.
Football's world governing body FIFA said that 2022 World Cup qualifying matches in Asia due to be played later this month and in June had been postponed.
However, there was scope for individual national associations to still stage matches in the March and June international breaks if they mutually agreed to, and that provisions to ensure the safety of all individuals involved met the required standards. FIFA and the Asian Football Confederation would also have to give their approval to any match going ahead.
Other sporting events abroad continue to be affected by the outbreak and organisers of the BNP Paribas Open at Indian Wells have announced that the event will not take place.
Rafael Nadal, Novak Djokovic and Kim Clijsters were among the players set to take part in the tournament which was due to start in California on Monday.
Indian Wells is the first Premier Mandatory event of the WTA season and is a Masters 1000 event on the men's tour.
World Snooker confirmed that the attendance in the arena for the Gibraltar Open would be limited to 100 people as a precautionary measure.
The organisers of rugby union's European Champions Cup and Challenge Cup competitions, EPCR, say the quarter-final ties scheduled for the weekend of April 3-5 are still set to go ahead.
Lancashire County Cricket Club have announced pre-season trips to Dubai and Potchefstroom in South Africa have been cancelled on the advice of relevant health authorities. The club say they are finalising alternative plans on home soil.
The International Judo Federation, meanwhile, has cancelled all Olympic qualification events on the calendar until April 30.