Sports Mole rounds up all of the latest news regarding Formula 1 on Friday, July 10.
Friday morning's Formula 1 news roundup:
---
© Reuters
Ferrari will celebrate its 1,000th grand prix at their home track in Mugello after Formula One extended this season's calendar to 10 races.
The sport will head to the Ferrari-owned track, 25 miles away from Florence, for the first time, with a race at the Sochi Autodrom in Russia also confirmed by the sport's bosses on Friday.
The Mugello race will be the third instalment of another triple-header, following grands prix in Spa and Monza, and is set to take place on September 13.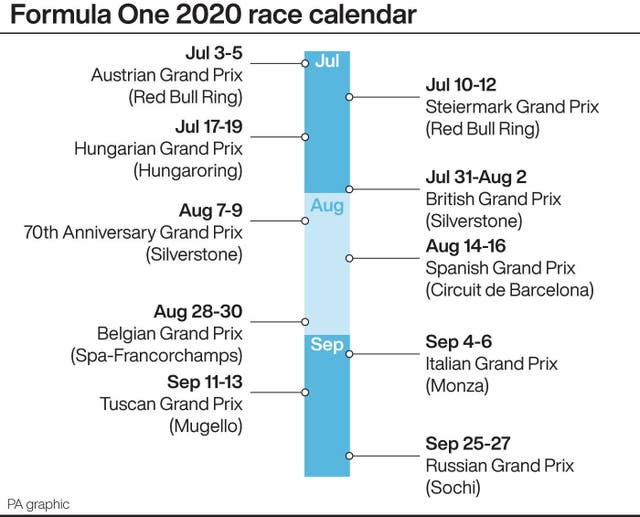 The round in Russia has been penned in for September 27. It is understood that fans could be permitted to both events.
F1's owners Liberty Media remain hopeful of staging at least 15 races this year, and possibly as many as 18.
A race in Portimao in the Algarve is also set to be rubber-stamped in the coming weeks. And while it is yet to be confirmed, the season is expected to end with three consecutive races in the Middle East, with Bahrain to host two rounds before the season closer in Abu Dhabi on December 13.
"We are delighted to announce Mugello and Sochi will be part of the 2020 calendar and want to thank all our partners for their support in recent weeks," said F1 chairman Chase Carey.
"We had great start to our season in Austria last weekend and we are increasingly confident in our plans to race throughout the remainder of 2020.
"The Russian Grand Prix is a major moment in our season, and we are looking forward to being back in Sochi in September.
"We are equally excited to see a Formula One race for the first time at Mugello, an occasion that will mark Ferrari's 1000th Grand Prix.
"Both races will be a huge boost for fans with more announcements on the next races in our calendar coming in the weeks ahead."
---
© Getty Images
On this day in 1994, Damon Hill claimed victory at the British Grand Prix – an achievement his two-time world champion father Graham had not managed during his own illustrious career.
Here, the PA news agency takes a closer look at Damon and his triumph at Silverstone 26 years ago.
Following his father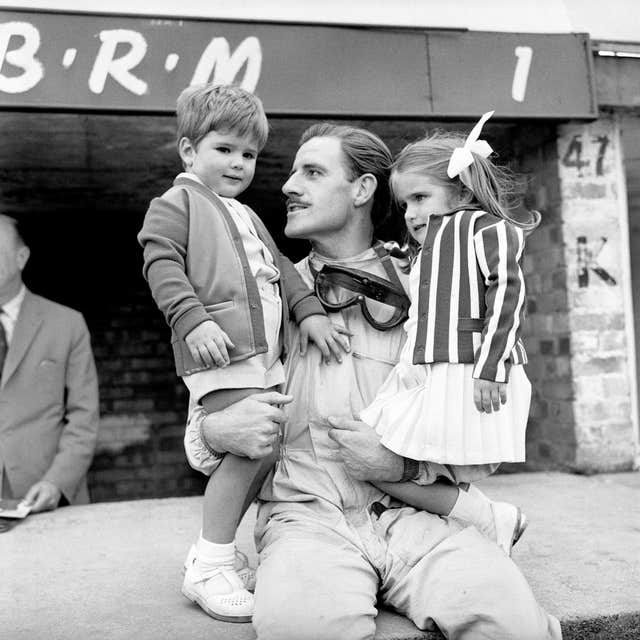 Hill, who was two when his father first became Formula One champion in 1962 and eight when he added his second title, initially raced motorcycles before switching to four wheels and entering the sport himself in 1991 as a test driver for Williams. The next year he made his bow as he qualified for two races with an uncompetitive Brabham team, including the British Grand Prix – in which he finished last. He also continued to do test work for Williams, who then promoted him for the 1993 season as a replacement for outgoing world champion Nigel Mansell.
Victories on the board
Hill registered his maiden Grand Prix win in Hungary in August of the 1993 campaign and followed it with victory in each of the next two races en route to finishing third overall, with his team-mate Alain Prost taking the title and Ayrton Senna the runner-up. He had led the British Grand Prix only to retire due to engine failure. The start of the 1994 season brought tragedy, with Senna, who had replaced Prost at Williams, being killed in the third race in San Marino, and then another win for Hill, in the fifth in Spain. That was the only one that had not been won by Benetton's Michael Schumacher heading into the eighth at Silverstone.
Home win after Schumacher controversy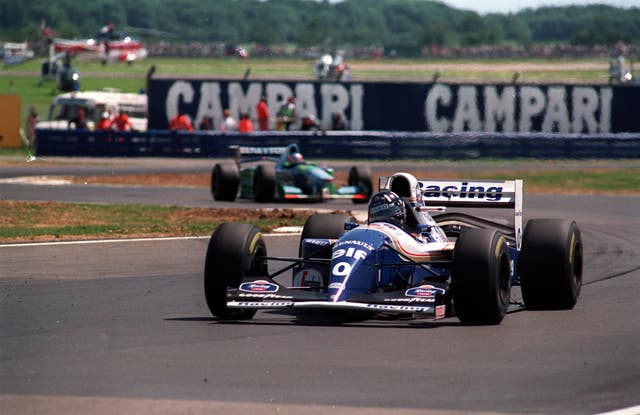 While the race on July 10 ultimately saw Hill take the glory, it was Schumacher who arguably proved the centre of attention. Having overtaken pole-sitter Hill on the parade lap, the German was ordered to serve a stop-and-go penalty and subsequently shown a black flag, but kept going before eventually pulling into the pits on lap 27 to serve the punishment. Ending up crossing the line second, he was later disqualified for his antics and a two-race ban was imposed. Hill, meanwhile, received the winner's trophy from Princess Diana after going one better than his late father's best British Grand Prix efforts, the runner-up finishes of 1964 and 1965.
Champion two years later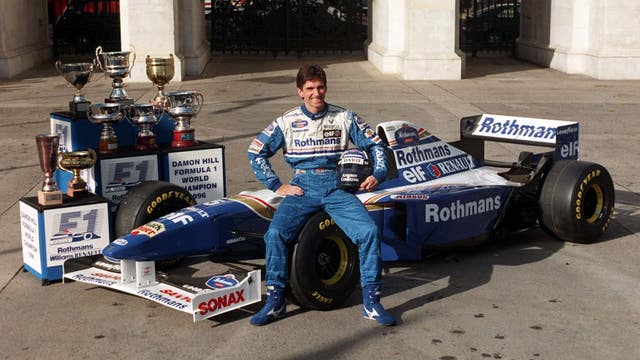 Hill added four more wins that season but was pipped to the title by a point by Schumacher following a controversial collision between the pair during the finale in Australia. After coming second behind him again in 1995, Hill was then finally crowned F1 champion in 1996 to make it three titles for the family. He moved to Arrows for the following season, then had two years with Jordan before retiring. He recorded his best British Grand Prix finish since the 1994 victory in his final season, coming fifth.
---
More transfer news from Formula 1:
Picture of the day - Ayrton Senna wins 1988 British Grand Prix
Brilliant Brazilian Ayrton Senna won a rain-lashed British Grand Prix at Silverstone in 1988. Read more.
Driver 'shocked' by Ferrari power loss
Carlos Sainz says he is not yet worrying about his move to Ferrari for 2021. Read more.
Schumacher hoping for Friday outings in 2020
Mick Schumacher is hoping to be able to drive a Formula 1 car again in 2020. Read more.
FIA warns teams over coronavirus breaches
Ferrari and Mercedes have been warned about a breach of the strict coronavirus measures in force for the back-to-back races in Austria. Read more.
Mercedes duo look to sign new deals for 2021
Mercedes' current drivers appear to be making moves to ink new deals for 2021. Read more.
Political activism not a distraction - Hamilton
World champion Lewis Hamilton insists he is not "distracted" by his political activism in 2020. Read more.
Giovinazzi not focused on replacing Vettel in 2020
Antonio Giovinazzi insists he is not giving up on his Formula 1 career. Read more.
China, Canada unlikely to host races in 2020
China's hopes of returning to the 2020 calendar are fading. Read more.
'No desire' to join Alonso at Renault - Briatore
His protege Fernando Alonso may be returning to Formula 1, but Flavio Briatore insists he definitely is not. Read more.
Sirotkin defends Kvyat over refusal to kneel
Renault's Russian reserve driver Sergey Sirotkin has defended his countryman Daniil Kvyat's decision to refuse to kneel on the grid last Sunday. Read more.
'Angry' Verstappen says he can still win title
Max Verstappen insists that his chances of winning the 2020 title remain alive. Read more.
Alonso signing 'not just marketing' - Prost
Renault advisor Alain Prost says a question mark about Sebastian Vettel's motivation may have thwarted his chances of joining the French team. Read more.
Still 'no place' for Vettel at Red Bull - Marko
Dr Helmut Marko has once again dashed Sebastian Vettel's hopes of a return to Red Bull next year. Read more.
Charles Leclerc escapes with warning over coronavirus breach
Valtteri Bottas was deemed not to have broken any rules following an investigation. Read more.
Valtteri Bottas, Charles Leclerc investigated for possible coronavirus breach
Both drivers flew back to Monaco this week. Read more.
F1 dream has 'no plan B' - Mick Schumacher
Mick Schumacher says he has "no plan B" in the event that his Formula 1 dream fades. Read more.
Without top seat, Vettel should retire - Berger
F1 legend Gerhard Berger thinks Sebastian Vettel should quit Formula 1 rather than switch to a midfield team. Read more.
Kvyat explains why he refused to kneel
Daniil Kvyat has explained why he refused to kneel on the grid last weekend in Austria. Read more.
Verstappen's Honda engine being analysed in Japan
Red Bull is still waiting for the cause of Max Verstappen's retirement in Austria last Sunday to be confirmed. Read more.
No Friday sessions for Alonso in 2020
Fernando Alonso has played down suggestions he might make an appearance this year during a Friday practice session. Read more.
Alonso was sick for 'several weeks'
Fernando Alonso has revealed that, amid the coronavirus pandemic, he suffered "for several weeks" with a mystery illness. Read more.
Alonso admits he will not win in 2021
Fernando Alonso admits he will not be able to win next year after returning to Formula 1 with Renault. Read more.