A deal to take over crisis club Bolton has been completed with its sale to Football Ventures (Whites) Limited, the club's administrators have announced.
Meanwhile, English Football League executive chair Debbie Jevans has promised an investigation into what happened at Bury after the club was expelled from the league.
The Shakers' 125-year stay ended at 11pm on Tuesday, six hours after Bury owner Steve Dale missed a final deadline to provide the EFL with assurances he could fund the club or had sold it to someone who could.
A possible rescue by C&N Sporting Risk fell through shortly before that deadline when the London-based analytics company announced it could not proceed because of concerns about the club's mortgages.

2000. The sun has set on the day's activities but we will be back to update you if there are any further developments.
1900. Stricken Bury sent a message of support to Bolton following news of their successful takeover.
A tweet on Bury's official account, read: "Everyone connected with #buryfc are delighted for all supporters, staff, players and anyone else associated with Bolton Wanderers that the takeover has been successful #footballfamily 💙."
1832. The EFL released a statement regarding the new ownership of Bolton.
EFL boss Jevans told efl.com: "On behalf of the EFL Board, I am pleased that the administrators appointed in respect of Bolton Wanderers Football Club have today concluded the transfer of assets with Football Ventures to place the Club under new ownership and out of administration.
"Having worked closely with the administrators since their appointment in May, the EFL has been focused on working through this difficult and complex period of uncertainty with all parties.
"Following the completion of the sale, the Club is no longer in administration and the notice of withdrawal issued as per the EFL's insolvency policy has been cancelled."
1830. New Bolton owners Football Ventures (Whites) Limited released a statement.
Football Ventures said: "Throughout this lengthy and complicated process, we have remained focused on completion of the deal and nothing else.
"At times it has been difficult to keep our counsel, but we took a decision to remain on the sidelines even when further damage was being inflicted by delays outside of our control.
"Our thoughts were always with the club staff and supporters, and we worked tirelessly behind the scenes to find an agreement and prevent even more stress and uncertainty for those who have suffered far too much over the past months.
"Now we are excited to begin restoring this magnificent football club to its rightful position, securing its future for the fans, the loyal club staff and the players."
1810. Bolton have been sold to Football Ventures (Whites) Limited, the club's administrators have announced.
Bolton were on the verge of liquidation after the English Football League gave administrator Paul Appleton 14 days to either sell the Sky Bet League One club or prove they can be funded for the rest of the season.
In a statement, Appleton said: "This has been one of the most complicated administrations I've been involved with, but I'm delighted to say we have finally reached a satisfactory conclusion with the sale to Football Ventures."
1800. That's the latest from us for now but we will be monitoring both clubs for any fresh developments.
1649. An international consortium announces they have £7million in the bank to enable the sale of Bury FC and are pleading with the EFL to rescind their expulsion, reports Sky Sports News.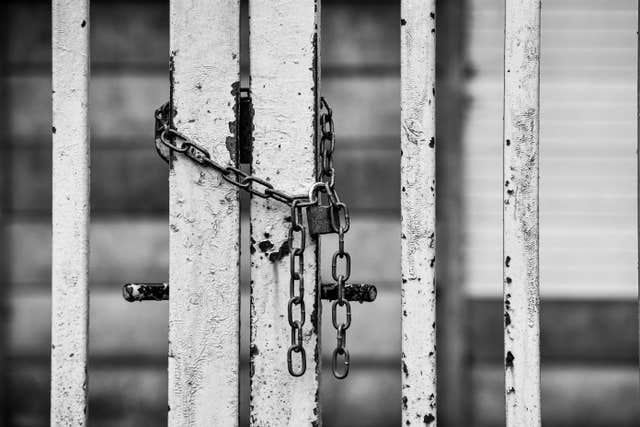 1526. Bury owner Dale urged the EFL to rescind its decision.
Dale told Sky Sports News that two buyers remain interested in buying the club and, if the EFL refuses to reverse its ruling, he will call for a review by an independent adjudicator and a secret ballot of the other 71 EFL clubs.
"If the many requests to rescind remain unanswered, we believe an independent adjudicator should be brought in," Dale said.
"We also want a secret ballot of all EFL clubs to ask the question if they want fellow clubs Bolton and Bury FC to be taken out of the league. I don't think they would want that."
1515. Bolton West MP Chris Green called on Damian Collins, chairman of the Digital, Culture, Media and Sport Committee, to launch an investigation into the EFL's handling of the situation.
"It is appalling that the situation at BWFC has been allowed to carry on for this long, with fans being concerned for months about whether their club is going to survive," he said.
"To have Bury FC ejected from the EFL is serious, but to have two clubs ejected if a deal does not go through for the Wanderers is unprecedented and shows that the Football League has failed in its duty to protect football clubs from appalling situations like these.
"This cannot be allowed to continue, which is why I am calling for an urgent inquiry into the EFL and their management of the situation at Bolton Wanderers."
1500. Football Supporters Association vice chair Tom Greatrex wants the Football Association to be the game's regulator

Greatrex said in a statement: "It's extremely shocking that we've reached this point – Bury FC's demise does severe harm to the reputation of our footballing pyramid.
"It's clear that clubs and leagues can't be left to regulate themselves, we need the FA to step up and be the game's regulator.
"Our thoughts are with Bury fans today and we'll continue to support them as they look to rebuild."
1450. Some positive news for Bury?
1352. Bury North MP James Frith announces Facebook Live to discuss the fate of the Shakers
1345. Bury to update fans on season ticket refunds
1331. Former Bury boss Ryan Lowe "gutted" for his former club
Lowe was in charge at Gigg Lane last season before leaving to join Plymouth in the summer.

1325. Jevans promises investigation into Bury's demise
Asked how an EFL investigation might proceed, when owner Dale is almost certain to liquidate the club, potentially sealing its secrets forever, she said: "This situation has happened and we have committed to do an investigation.
"I can't name the individuals (who would conduct it) now. We have not received the due diligence that C&N Sporting Risk has undertaken.
"I need to receive that information, the board need to sit down and look at it and then we need to do the necessary investigation with the support of the clubs."
1320. Debbie Jevans "devastated" by Bury's EFL expulsion
Jevans said: "I feel devastated, sad, any number of adjectives, because this isn't a situation that has arisen over the last 24 hours.
"This has been constant work, rightly, for weeks and months, involving numerous conversations with the board and Mr Dale trying to find solutions.
"So, yes, devastated, no other word for it. It's very sad."
1250. England Women's manager Phil Neville spoke of the devastation Bury's demise has had on everyone connected with the Shakers, including his own family
His mother, Jill, recently left her role as club secretary while his late father, Neville, was a director and has a stand named after him at Gigg Lane.
He told Sky Sports News: "She's got unbelievable memories, she's got great memories in her life. Watching her sons play or her daughter play, but probably her best memories were going into work with her husband every single day.
"She's no longer got that, but that is like every other of the 3000, 4000 supporters at Bury. They're not people that just roll over, there are people in that football club that are ingrained in the brickwork, in the foundations. They wake up this morning with no football club.
"One man, at this moment in time, is to blame for it. And nothing can be done about it, so all we can do is hope that Bury have a football club in the future. How that happens I don't know."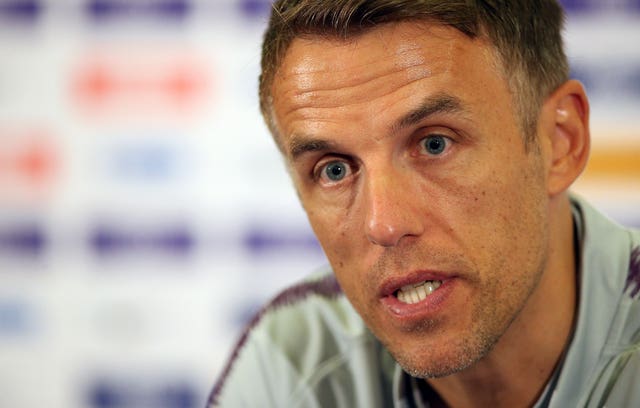 1245. MP for Bury South Ivan Lewis has called on the EFL to reverse their decision to expel Bury from the Football League, indicating that a consortium has agreed a potential deal with owner Steve Dale which would save the club
1240. Jevans admitted that the EFL will "we have to sit back and see if lessons can be learned"
When asked if Steve Dale should have been allowed to buy the club, she added: "That's the million dollar question, the fact is under the current regulations the answer is yes.
"He arrived at the office with the previous owner having purchased the share which he is entitled to do. At that point he passed the owners and directors test as it is currently laid down within the regulations.
"At that point, questions were asked of him to prove he had the funding to run this club. He did pass the initial test. It is up to him whether he sells the club or not. He chose to go down a CVA route and he understood the consequences of that, which would be a point penalty and 14-day notice period.
"If you look at the bigger picture we have to sit back and see if lessons can be learned. We need to go to the clubs and discuss that with them which we will."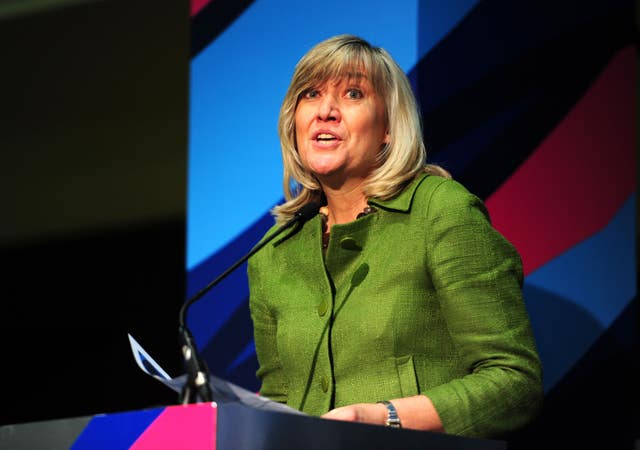 1230. Jevans insists that there was nothing more the EFL could have done to prevent the situation
"It's raw emotion and nobody wants to see that," Jevans told Sky Sports.
"We just have to look at ourselves and know that we have done everything that we could, which we did.
"Some may say we could have done more. I know that if I look at myself in the mirror, we did everything that we could.
"I think that if you look at what has happened, one has to ask Mr Dale what has happened. He bought the club and maybe he started to do the due diligence that has been done recently.
"We have worked with him, we had the CVA that went through, we reduced the amount of funding that he had to show us. Others were looking at him to sell the club, there was a lot of encouragement for him to do so and he didn't want to.
"If we asked the question once we asked it a thousand times, 'just show us that you can pay off the creditors and run the club'. He didn't want to sell until the last minute. We took the information we had, we gave the extension and we ended up where we are."
1140. Serie A outfit Parma have sent a message of optimism for Bury fans following Tuesday's verdict
The Italian side reformed in 2015 after the club were declared bankrupt and were demoted to the fourth-tier Serie D.
However, they secured three successive promotions to return to the top flight at the start of last season and retained their status with a 14th-placed finish.
1127. Striker Caolan Lavery, who was on loan at Bury last season, said he was "gutted" to hear the news of the club's expulsion from the Football League
1057. Optimism growing at Bolton?
1050. Jevans admitted that the EFL "needs to learn some lessons" and she believes lower league clubs should consider the option of a salary cap
1045. EFL executive chair Debbie Jevans admitted rescheduling five postponed matches became a major factor in reaching the decision to expel Bury from the Football League
Speaking to BBC Radio 4's Today programme, Jevans said: "This is an action that was taken, that was done with much regret and I'm feeling devastated to be here talking to you.
"We simply ran out of time, having already postponed five matches, it would have been six matches. We were struggling to fit that in and it was with deep regret that we just couldn't go on anymore.
"We went into everything that was sent to us with detail, trying to do everything that we could to save the club."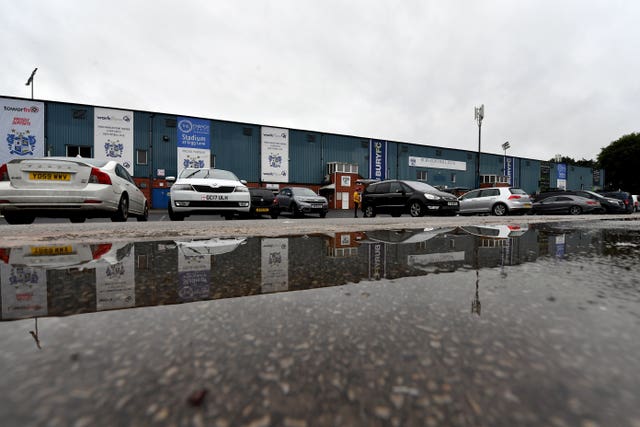 1030. The Professional Footballers' Association said it will continue to support all their members during this "desperately sad time"
"It is with great sadness to hear that Bury have been expelled from the English Football League after a takeover bid from C&N Sporting Risk collapsed.
"We have been in regular communication with the players, the EFL and the club over the last eight months to try and protect our members and secure a long-term future for Bury FC.
"Unfortunately, despite our efforts to support the process, the club has been unable to fulfil its financial commitments or complete a possible takeover deal. This will be a desperately sad time for Bury's players and staff.
"We will continue to support all our members who have been impacted by the current situation, including former players, the remaining players who are contracted at the club and also those who were hoping to sign contracts.
"Our thoughts in particular go out to the supporters, the town and the wider community who will be devastated by this news."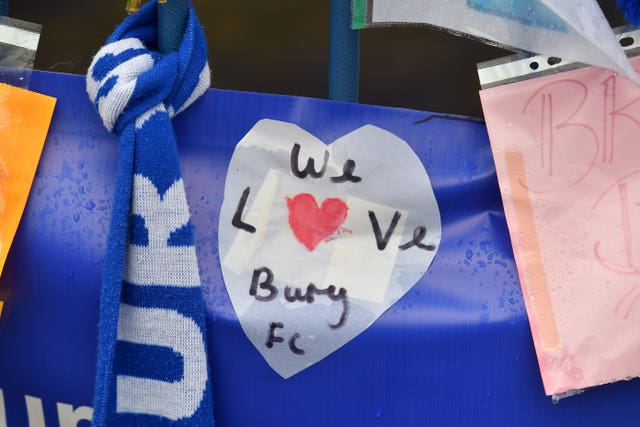 1015. Chair of the Digital, Culture, Media and Sport select committee and MP for Folkestone and Hythe Damian Collins has said the role of the football authorities and any possible changes to power will be reviewed in the House of Commons next week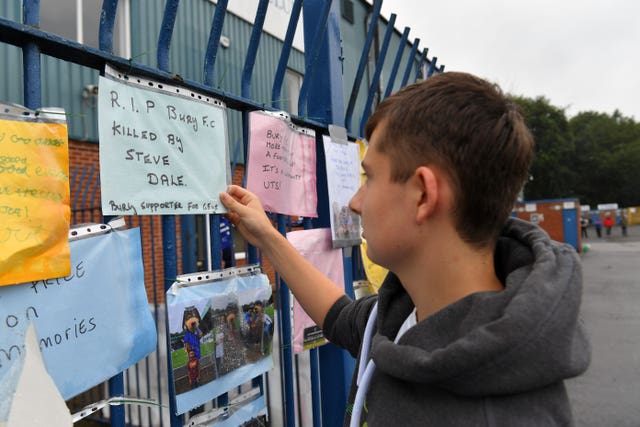 1000. Sports Minister Nigel Adams insisted the EFL must look into the circumstances surrounding Bury's plight, describing it as a "tragedy for the fans", but hoped they can be inspired by other clubs who had suffered similar fates
"This is a very dark day for English football. It is a tragedy for the fans of Bury, the local community and everyone connected with the historic club.
"There will be a huge amount of anger and disbelief about how this happened. I have been in regular contact with the EFL and it is right that they closely review the processes at Bury to see if any lessons can be learned.
"The club's passionate fans don't deserve to go through this. I hope once the dust has settled they can begin to rebuild and take inspiration from other clubs that have done so before them."
0945. Former Bury director Ian Harrop was emotional when speaking about the plight of the club, describing it as "one of the worst days of my life"
Harrop told Talksport: "I can quite honestly say it's one of the worst days of my life. I have been involved in the clubs for over 50 years, it's just tragic.
"We are a proud Lancashire club, 134 years of history that has been destroyed and I use that word strongly. We have been destroyed by certain individuals.
"We are a proud town and proud people so lets hope we bounce back. It's an very emotional time, it will be for the foreseeable future but there's a lot of individuals in the town and in the club that will fight.
"We are not going to die overnight, there is a lot individuals out there who should be worried because I think their time will come.
"It was clear that Steve Dale had one objective (and) that was to liquidate the football club, congratulations Mr Dale, you have done that, you have spoiled the lives of 3,000 people. It's such a shame."
0930. Fans let their feelings known with signs on a fence outside Gigg Lane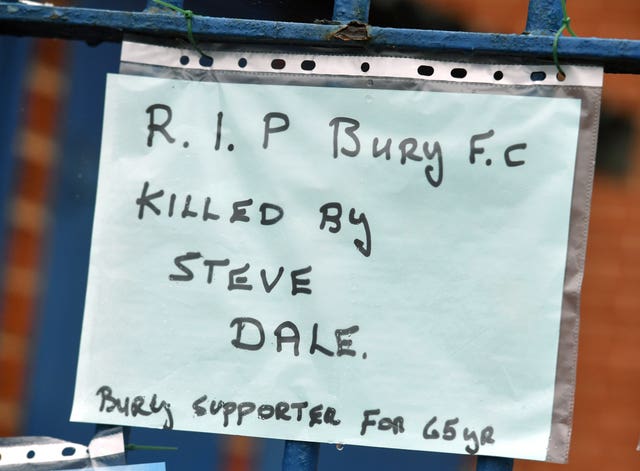 0827. Dave Giffard, chair of Forever Bury Supporters Club, told BBC Breakfast that the fans are discussing their next move
"We have got a meeting this morning to look at our next move. What we would like to do is try and save this football club," he said.
"If we have to restart as a phoenix club we would like to get hold of this ground. We have the support of the council."
Giffard added: "It has been a difficult four months. We thought we had got over the hump on Friday when we finally got a buyer accepted and everything looked rosy.
"But it fell apart at the last minute. The annoying thing is we had three more buyers there and the League wanted exclusivity with the one deal to concentrate on getting that through.
"So we threw the other three in on the table last night, the proof of funding was there. Why they couldn't give us that little bit more time to get one over the line, we don't know.
"They have made their decision. Whether we have a right of appeal I don't know."
0751. Former Wales international goalkeeper Neville Southall started his career at Bury in 1980
0735. Scott Burgess was one of the many players to leave the club over the summer

0624. Danns was captain of the side that won promotion from League Two last season
"I've come to have a special bond with the fans and created some amazing memories, especially last year.
"At this moment in time I just feel for them the most because you have got people who have been going to the game for years. It's like every story, you go to the game with your Grandad, your Mum, your Dad, your brothers, it's such a community. It means so much to people.
"For me, it's starting to hit me harder because I have got young sons myself. I know what it is like to take them to watch my boyhood team Liverpool and the bond that gives us. To see that taken away from future fans is just devastating.
"Football brings not just football on the pitch but it is so much more than that. This whole situation just does not feel real."
0621. Danns said that the players and staff always believed the club would be saved.
Danns told Talksport: "We have been in as normal, training. I don't think anyone really believed that this was going to happen.
"We were just preparing every single week as though the next game was going to be on, the next game was going to be on.
"For it to happen so suddenly, it's still really unbelievable. For a club with so much history and that has added so much to the league, for it to just be gone like that is just unimaginable.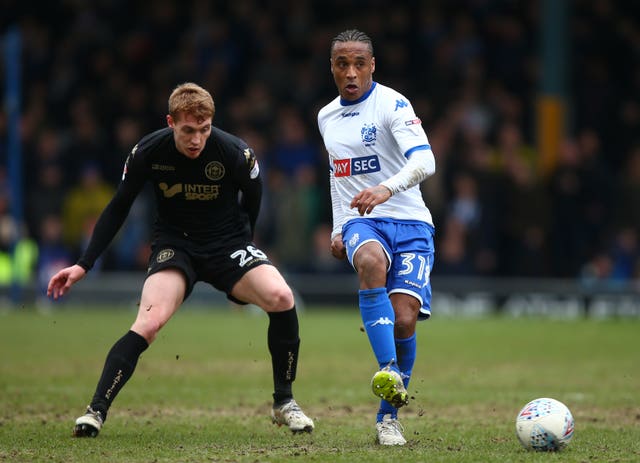 0130. Bury captain Neil Danns said the club's expulsion from the English Football League had "destroyed lives".
0000. Executive chair Debbie Jevans conceded that news of Bury's expulsion from the EFL was "one of the darkest days in the league's recent history."
2345. League One will now proceed with 23 clubs for the remainder of the season and only three clubs will be relegated in order to bring the division back to 24 teams next season. That plan, however, could change if Bolton are also expelled in the coming days.
2335. Appleton issued a brief statement to say he had "noted" the lifting of the withdrawal notice, which the league suspended when he was appointed earlier this summer to allow him time to sell Bolton, but would continue to try to save the club.
"All parties have been in continuous dialogue throughout the day and are working closely together this evening in order to bring a deal to completion," he said.
"We will continue to work through the night if necessary. There will be a further update as soon as possible."
The sticking point is understood to be a dispute between the club's most recent owner Ken Anderson and their biggest creditor, the family trust set up by Bolton businessman and benefactor Eddie Davies before his death last year.
2330. Former midfielder Neil Danns said he was "absolutely devastated" following the news of Bury's expulsion from the EFL.
Danns spent the last three seasons at Gigg Lane before his contract expired in the summer after helping the club secure promotion to League One.
2307. Bury have been expelled from the EFL after a day of high drama that will almost certainly result in the 134-year-old club being liquidated.
Shakers owner Steve Dale had been given until 5pm on Tuesday to come up with a plan for paying the club's debts and funding them going forward or sell them to someone who can.
It had been hoped that C&N Sporting Risk would be the answer but the London-based firm pulled out of the deal 90 minutes before the deadline, citing concerns over the club's confusing debt structure.
And then, just when all hope seemed lost, Dale claimed he had received three new bids for the club, prompting fans, politicians and pundits to call for more time to explore these options. But shortly after 11pm, the league revealed its verdict.
2305. Bolton are on the verge of liquidation after the EFL gave their administrators 14 days to either sell the League One club or prove they can fund them for the rest of the season.
And as the administrator Paul Appleton has already revealed that there is no money left to fund the club without a takeover by the Football Ventures consortium, the verdict looks terminal.
Optimism had been growing on Tuesday that Bolton would meet the 5pm deadline set by the league to announce that the deal had been approved.
1950. Chair of the Digital, Culture, Media and Sport select committee and MP for Folkestone and Hythe Damian Collins calls for Bury and Bolton to be given more time
He said on Twitter: "The @EFL should give bidders for @buryfcofficial
and @OfficialBWFC the time they need to establish their plans for the clubs.
"Beyond this immediate deadline it's time to look again at why the English football authorities are not doing more stop clubs getting the edge of the abyss."
1927. Three bids on the table for Bury?
1900. Update on Bolton
1823. Former Port Vale owner Norman Smurthwaite in Bury bid
PA understands that one of the late bids to save Bury has come from former Port Vale owner Norman Smurthwaite.
Bury owner Steve Dale rejected a £4.5million offer from Smurthwaite last week because it did not include any money for him or his associates.
But it has now emerged that Smurthwaite contacted the EFL with another rescue package on Tuesday, although it has also been rejected.
Smurthwaite told PA: "I put a radical plan to the EFL to save Bury but I understand it has been rejected.
"The plan was based on removing Dale from the process. Sadly, I feel they are doomed now."
1748. Bury MP James Frith remains confident a deal can still be done
1742. Bury head groundsman locks up at Gigg Lane

Bury head groundsman Michael Curtis shuts the door at Gigg Lane (Peter Byrne/PA)
1714. Discussions "ongoing" at Bolton
1713. Gates are locked at Gigg Lane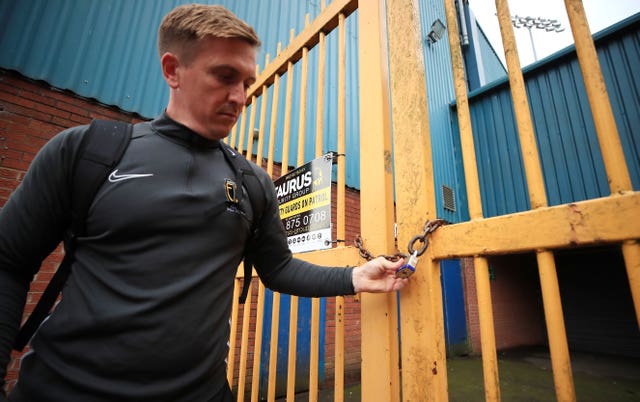 Gates are locked at Gigg Lane after C&N Sporting Risk is "unable to proceed" with the proposed takeover of the club (Peter Byrne/PA)
1700. The deadline for the two clubs has now passed.
1645. Fifteen minutes until the 5pm deadline for both Bolton and Bury

1640. Football Supporters' Association call for action
Tom Greatrex, vice-chair of the Football Supporters' Association, said in response to the news from Bury: "The potential impact of losing a club is huge – not just for the league but for supporters and the town itself, too.
"The protracted crisis around Bury and Bolton shows the regulatory regime is not fit for purpose and has to be sorted out.
"We've put forward a range of proposals to deal with the ownership issues we're seeing – it's time for the football authorities to be shaken out of their complacency and show serious engagement with these ideas.
"We can't have this situation again. An 11th-hour closing of a club is not good for football, for the reputation of the game or those owners who are actually doing a good job."
1625. Bury issue statement asking supporters to not trespass at Gigg Lane
The statement read: "We understand that this is a difficult and emotional time for all supporters given the recent news regarding a potential takeover.
While the Club are working hard looking at other potential avenues with other interested parties, we would like to remind supporters that no one should gain access to inside the stadium (unless authorised).
CCTV is installed at Gigg Lane, and anyone damaging Club property or trespassing into the stadium itself will be identified and appropriately dealt with by the Police, who will have access to current and previous CCTV footage.
We would like to urge supporters to remain patient and respectful for Club property."
1615. Bury MP James Frith described the collapse of the C&N Sporting Risk takeover as 'disgusting'
Frith said on BBC 5 Live: "What a disgusting moment in time that this sort of financial mismanagement, this financial speculation has prevented every single bit of good intention on a takeover that was fully capable and fully able to provide an immediate and sustainable future for Bury football club.
"This is a studs up sliding tackle on due process. It is disgusting and it needs red-carding for good."

1611. It is looking bleak for both Bury and Burnley

1601. Bury MP James Frith responds to the news coming out of Gigg Lane
1557. C&N Sporting Risk explain decision to withdraw from Bury takeover
In a statement, C&N said: "We are grateful to the EFL for the short extension they granted to us so that we could continue with due diligence, and for their acceptance of our proof of funds capable of mounting a credible takeover. This has been worked on around the clock by our team and advisors for the past 72 hours.
"As part of our due diligence, we set ourselves a list of key criteria regarding the CVA, the ground and the overall financial state of the club that had to be met in order for us to be satisfied that we have enough knowledge to proceed with the takeover. The complexities involved in each of these matters escalated and continue to do so.
"It is therefore with regret that we have decided not to proceed with the takeover of Bury FC. This decision has not been taken lightly. We fully understand the importance of the club to the community and it is with this in mind that we have informed the EFL of our decision at the earliest possible opportunity."

1546. EFL releases statement about Bury's takeover collapse
The EFL said in a statement: "The EFL Board has been informed that C&N Sporting Risk will no longer be pursuing their interest in Bury FC.
"The League announced at the weekend that it was working exclusively with the Club and C&N in an attempt to finalise a change of control at the Club. However, following a period of due diligence, C&N have opted not to progress matters.
"The League continues to be in discussions with Bury FC in advance of today's 5pm deadline and will provide a further update as appropriate."
1553. Defender Adam Thompson leaves Bury
1538. Bury takeover has collapsed
Some very bad news coming out of Bury. C&N Sporting Risk has just announced it is "unable to proceed" with the proposed takeover of the club.
1508. Lofty the Lion visits Gigg Lane
Bolton and Bury are standing together through this difficult day and Wanderers' mascot Lofty the Lion has made the short trip to Gigg Lane to show support
1457. Kevin Davies: Bolton demise unthinkable
Kevin Davies, who spent 10 years leading the line for Wanderers, told the Bolton News the demise of his old club would be "unthinkable".
The player-turned-broadcaster said: "Not having a Bolton Wanderers is just unthinkable.
"I hope whoever is responsible for this deal not getting done can sort something because the football club matters more than they probably know. I'll be keeping my fingers crossed."
1412. Community spirit
1354. Bolton fans help out Bury
Ian Eccleshare, 39, from Bolton said: "[We're] both Bolton fans. I was talking to my lad about football yesterday and asked him if he would like to go down and help clean Bury, he was made up when we got there.
"We got talking to an elderly lady who told us that her husband couldn't come as he has dementia, Ben (my lad) asked if he was ok and he would clean seats on his behalf which made him a bit upset.
"The amount of people that came up to us and said thanks for helping , and had a quick chat about the state of both clubs was humbling.
"The emotion in the voices in the older generation we spoke to was something else. It was more than just a football club today more community spirit."
1331. MP James Frith gives Bury update
James Frith, Labour MP for Bury North, told Tower FM: "The deadline of 5pm today looms large.
"There's a huge amount of work still to do in what is essentially day three of unravelling six years of mismanagement of the club, after very late engagement from the current owner, and an EFL deadline that recognises an extension was warranted but may yet prove to time us out.
"There's huge amounts of complication on the structures of the debts and what's been sold and who owns those debts, that's where they're at at the moment, which has itself implications for both the valuation of the club and also the liability of the new owners.
"The new owners are rightly cautious of signing blind on a deal that then renders the club unsustainable."
1252. Davies hopes for positive outcome
Former Bolton striker Craig Davies, now playing for Mansfield, has offered his best wishes to the club.
1227. Food for thought
1151. Rovers return?
Bury certainly seem confident, with tickets being printed ahead of their League One match against Doncaster on Saturday.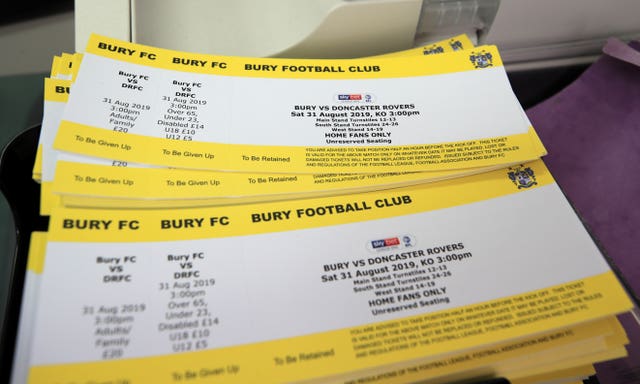 1143. Seasiders support
Even Blackpool fans have turned up to help with the effort at Gigg Lane, with the independent MP for Bury, Ivan Lewis, taking to Twitter to thank them.
1121. Bury's fans digging deep
1052. Sombre Wanderers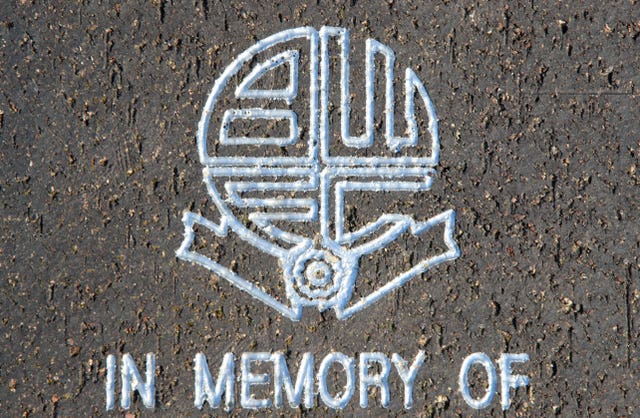 1021. Hart-felt sympathies to Bolton
Former Bury director Joy Hart, who handcuffed herself to a Gigg Lane drainpipe on Friday in protest, told BBC Radio Manchester: "I'm so thrilled that so many Bury supporters have turned up today to clean the seats.
"They've brought their own washing-up liquid, their own water – that's Bury fans through and through.
"The emotion is still raw. Your stomach turns over every morning that you wake up. We hope the EFL let us live for another 134 years. It's very emotional.
"I give my heartfelt sympathies to Bolton, and we all wish you well at Bury, and the whole footballing world."
0949. Is the writing on the wall?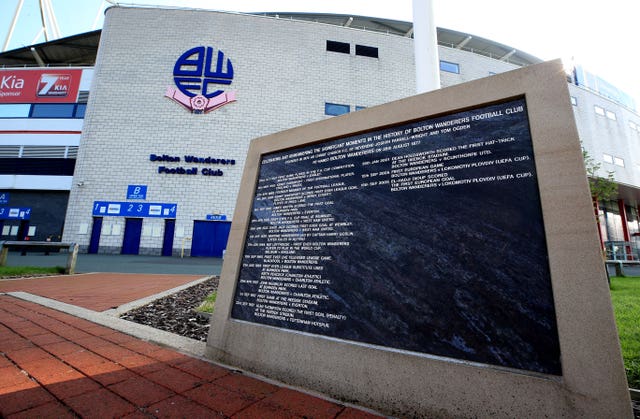 0940. Bottling it up
The Shakers have requested help from local companies for donations of bottled water for fans who have come to help.
0928. Bury fans get cleaning
Optimistic their side will be back in action against Doncaster on Saturday, Bury's fans have answered a call to arms to clean up Gigg Lane ahead of what would be a first game of the season.
0916. Hope for Bolton
Bolton administrator Paul Appleton says the future of the club "is still in doubt" but hopes there will be a "positive outcome" before today's 5pm deadline.
"Following my statement of yesterday morning, I am glad to report there is continuing dialogue between the parties whose positions will ultimately decide the fate of the club," said Appleton's statement on Bolton's website.
"Myself and my team will continue to do everything possible to facilitate a deal and we will work tirelessly to get this finalised for the club, fans, staff and wider community.
"The future of Bolton Wanderers is still in doubt but I have to believe there can be a positive outcome before today's 5pm deadline set by the EFL."