Conor Murray has handed Ireland a double boost – by signing a new three-year contract but also revealing he is back in training.
World star Murray has bolstered Ireland's long build-up to the 2019 World Cup by ignoring a raft of big-money overseas offers to commit his future to both Munster and head coach Joe Schmidt's Test side.
But after confirming his new contract, Murray also admitted he is closing in on a playing return – that could calm a few nerves following his unspecified neck injury.
Munster head coach Johann van Graan has in recent weeks insisted he could not comment on Murray's injury, at the request of the scrum-half himself.
Now though, the 29-year-old Ireland star has revealed he is almost ready to get back into action.
"Yeah, I'm pretty good," Murray told Munster's official club website, on his fitness.
"A lot's been said about it.
"I'm back on the pitch, training with the lads.
"So hopefully, sooner rather than later I'll be able to put on the jersey again."
📹| Check out the full details and interview from the player himself >> https://t.co/QbJOboFBPz pic.twitter.com/1PNoAkNZtL
— Munster Rugby (@Munsterrugby) October 10, 2018
Murray's impending return to fitness could see him ready for action for Ireland's autumn international campaign, with Italy, Argentina, New Zealand and the USA facing head coach Schmidt's men in November.
British and Irish Lions star Murray would have been out of contract next summer, and that left him naturally weighing up lucrative offers to move overseas.
Ireland's policy of not selecting overseas-based stars will have contributed to his decision to stay with home province Munster however, and sets him up for next year's World Cup in Japan.
Performance director David Nucifora lauded Murray as "genuinely world-class", in underscoring the 67-cap half-back's importance to boss Schmidt's Test match set-up.
"Conor is a genuinely world-class player and he has illustrated this through the consistent quality of the performances he delivers for both Ireland and Munster," said IRFU performance director Nucifora.
"He has played a central role in driving the success that has been achieved at national level and we are delighted that he will continue to play his rugby in Ireland for at least the next three seasons."
Murray has steadily marked himself out as one of the globe's great nines with a string of consummate performances for Munster, Ireland and the Lions.
The gritty half-back helped the Lions secure the drawn Test series in New Zealand in 2017, before starring in Ireland's third-ever Six Nations Grand Slam in 2018.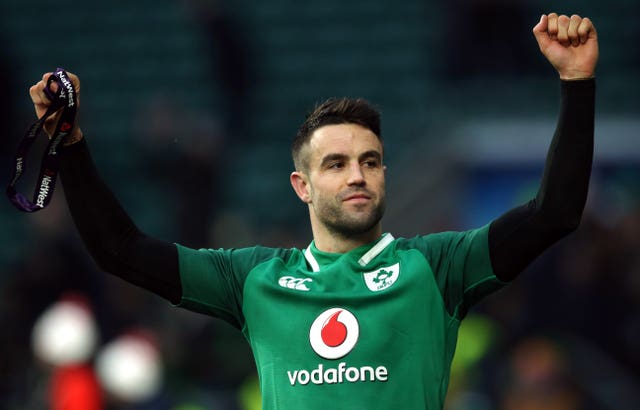 Murray's half-back partnership with Johnny Sexton continues to provide the bedrock for Ireland success, leaving him excited for more successful times ahead.
"I am delighted to have signed on with the IRFU until at least 2022," said Murray.
"Over the past few seasons I've enjoyed great days in the green of Ireland and the red of my home province Munster. I love playing here and look forward to making more life-long memories in the next few years."
And while he closes in on a playing return, Murray admitted November's Dublin clash with back-to-back world champions New Zealand will prove a vital barometer of Ireland's current status in the global shake-up.
"We've a great team and a great squad with Ireland at the moment," said Murray.
"It's a really competitive squad that wants to win every game it plays.
"So looking to this November, we've a great chance, everyone's talking about the All Blacks game.
"Two tough games to go before that, but that's a massive, massive test to see where we're at."