Tottenham manager Mauricio Pochettino believes racism must be tackled at every level of society after a weekend of shameful incidents in football.
Just days after Spurs defender Danny Rose said he "can't wait to see the back of the game" due to inaction on the issue, a number of fresh cases emerged during the most recent round of English Football League fixtures.
That has sparked a debate over how footballers should respond when faced with racist abuse, but Pochettino said the problem goes much deeper.
"I think it's a very delicate situation, it's not easy," he said.
"It's a very personal situation, how you feel, your emotion and how you can manage your emotion.
"We are here trying to help everyone. It's a thing we are of course fighting all together to try to stop.
"We need to stop it not only in football but in all different areas and situations.
"Danny and (Raheem) Sterling, we are very sorry for them but they have the capacity, they are famous people, they have the (platform to speak out).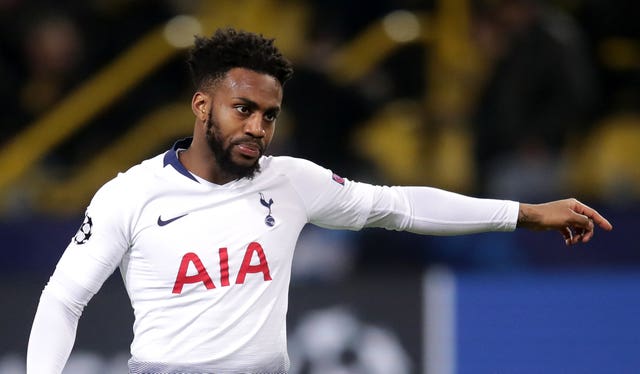 "How many people outside cannot say anything, but only go home and cry? That is a thing that I hate and I will do everything in my power to try to stop."
Tottenham forward Son Heung-min said he too had heard racist abuse while playing in England, but he believes the best response is to ignore it.
"I've seen racism as well since I've been playing in England," the South Korean said. "I think the best reaction is don't react with anything. That is the best way. We are playing football as a human.
"It doesn't matter which country you come from, which person you are. It doesn't matter."
Lancashire Police on Monday said a 20-year-old man from Sheffield has been arrested after handing himself in at Blackpool Police Station following an abusive message sent to Wigan player Nathan Byrne on Twitter.
"The man has since been released under investigation pending a charging decision by the Crown Prosecution Service (CPS)," a police statement said.
There was also an arrest after Derby's 3-3 draw at Brentford, where Rams midfielder Duane Holmes was the victim of alleged abuse.
Speaking at a press conference on Monday, Derby manager Frank Lampard said: "(Duane's) OK. He was upset at the time, which is understandable, but now he's OK. It's up to the authorities to deal with it now.
"This is not just a problem for football. It's everywhere."
Northampton said several members of their first-team squad were also allegedly abused prior to their match at Notts County.
The spate of incidents – following on from those involving Juventus' Moise Kean and England's match in Montenegro – has led to calls for players to abandon a match if there is any racist abuse.
However, former Watford striker Danny Webber believes that could have only a limited impact and says education offers the best long-term solution.
He told BBC One: "I agree with walking off the pitch. That's the first point, everybody making a stand and making everybody aware. But if it continues into the next week then it's not really made much of a difference.
"I think you've got to get a think tank of people together – that's from schools, nurseries, the football industry, other industries, men, women and people from every background – to try and think of a way to tackle it because it is about education. Because I don't believe anyone is born racist."
ga('create', 'UA-72310761-1', 'auto', {'name': 'pacontentapi'});
ga('pacontentapi.set', 'referrer', location.origin);
ga('pacontentapi.set', 'dimension1', 'By Ian Parker, Press Association Sport');
ga('pacontentapi.set', 'dimension2', 'e4e191ab-c8d1-4004-8d71-b855300475e3');
ga('pacontentapi.set', 'dimension3', 'paservice:sport,paservice:sport:football,paservice:sport:uk');
ga('pacontentapi.set', 'dimension6', 'story');
ga('pacontentapi.set', 'dimension7', 'composite');
ga('pacontentapi.set', 'dimension8', null);
ga('pacontentapi.set', 'dimension9', 'sport:football');
ga('pacontentapi.send', 'pageview', { 'location': location.href, 'page': (location.pathname + location.search + location.hash), 'title': 'Pochettino calls for action on racism in all areas of society'});
body check tags ::