England batsman Dom Sibley has revealed he lost almost two stone during lockdown after feeling "self-conscious" about his weight during the recent tour of Sri Lanka.
Sibley made a strong impression during his first winter as an international cricketer, averaging just over 40 from his first six appearances and making a hugely impressive maiden century during the New Year Test in Cape Town.
But his bulky frame also caused several of his team-mates adopt the nickname "Fridge" and the 24-year-old admitted that the sweltering heat and humidity of the trip to Colombo had forced him to question his conditioning.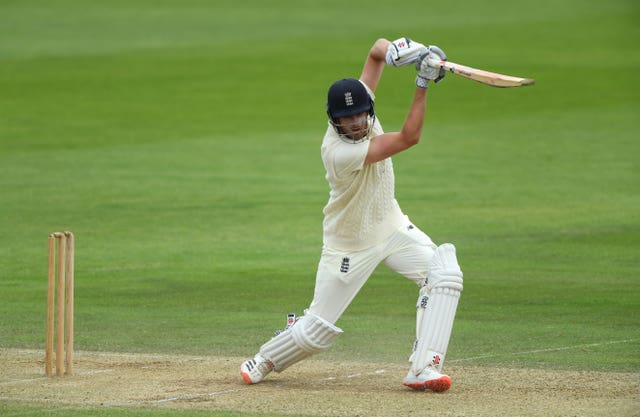 With the likes of Ben Stokes and Jos Buttler setting the standards with some tireless training schedules, Sibley set himself the challenge of shaping up while sport was on hiatus.
"In Sri Lanka, for the first time in my career, I felt a little bit self-conscious about my physique and my weight," said the opener, who will line up at the Ageas Bowl on Wednesday as England and the West Indies begin the #raisethebat Test series.
"Stokesy is a bit of a freak when it comes to his training and it was actually seeing him, Root and Buttler running after a big session in Colombo that was a real eye-opener… I remember being absolutely spent. Seeing those guys and the graft they put in to stay at this level for the amount of time they have done is something that I want to do. That was part of my motivation for doing it.
"I remember sitting on the plane thinking I need to do something, especially during lockdown when we couldn't improve anything cricket-related.
"It was an opportunity for me to improve that side of my game and I'm glad to have been able to stick to it. Because of social distancing we haven't been able to do stuff like skin folds but on the scales I've lost 12kg (1.8 stone)."
All England players were given a personalised plan for exercise and eating during their long spell at home but Sibley took it on himself to go over and above the guidelines he was handed.
"I needed to, to be fair," he noted.
"I think we all like a little treat after a few runs but it's great to be a bit more disciplined. It's been tough, but it's good to feel the benefits now."
Sibley admitted the change in approach was one he might have taken earlier, suggesting he had occasionally prioritised technical work at the expense of other important work.
"I've always been someone who hasn't necessarily been the fittest in the squad and I've always, whether at Surrey or Warkwickshire, been coasting in that aspect," he said.
"I've had taps on the shoulder before and haven't really done anything about it. I think it was overdue having that wake up call and a good lesson for me, regardless of whether it leads to runs."
Some cricketers and golfers have been known to feel different about their game after considerable weight loss, but Sibley has yet notice any major changes with bat in hand.
"People have said I look different, which is nice, but in terms of batting I don't feel any different," he said.
"My fitness has never affected my batting, I've never felt tired batting. But it might help my agility in the field make me a better fielder. Carrying less weight might keep me on the park for longer too."
Sibley was one of 13 players to make the cut from the 29 who took part in an intra-squad game in the Southampton 'bubble' last week, with a further nine on hand as reserves to the main squad.
As well as his slimline appearance, Sibley's appearance was notable for the placement of leg slips, leg gullies and short leg fielders whenever he came to the crease. His own team-mates were therefore testing a perceived weakness against deliveries aimed towards his ribs – an examination that saw him dismissed cheaply in the first innings before a better response in the second.
"That's just another challenge for me to overcome. You've got to find ways to deal with it," he said.
"It was interesting in the practice match that they went with it so it was a good experience. It's a case of choosing when to play, when not to play and choosing the most low-risk options. It's about me managing those risks."
The England and Wales Cricket Board has confirmed that while television viewers will be able to hear an ambient 'Lord's hum' as part of Sky's coverage, the on-field silence will only be broken by PA announcements and a blast of music before players take the field.