Dillian Whyte has secured a unanimous points victory over Oscar Rivas to claim the WBC interim heavyweight title at London's O2 Arena.
The victory, Whyte's 10th in a row following the only defeat of his career to Anthony Joshua in 2016, hung in the balance after he was floored in the ninth round.
But the 31-year-old Londoner recovered his composure to seal the win, with the judges scoring the bout 115-112, 115-112, and 116-111 in his favour.
Whyte is now the mandatory challenger for Deontay Wilder's WBC belt.
Colombian Rivas was unbeaten heading into Saturday's fight but Whyte showed his intent early on, hurting his opponent with an explosive straight right in only the second round.
Rivas temporarily steadied the ship but Whyte remained in control, working his jab and unleashing an uppercut through Rivas's defence in round five.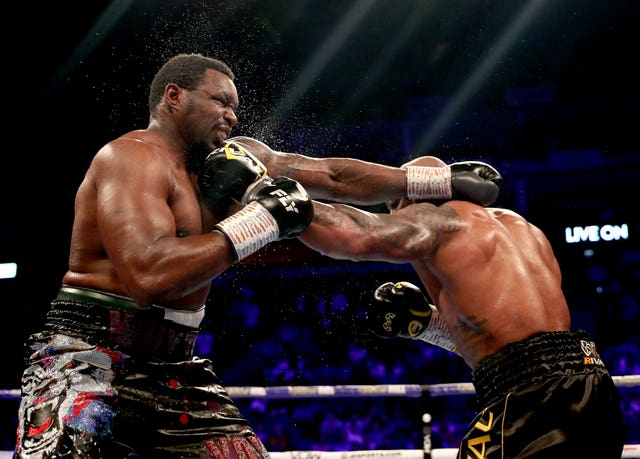 The 32-year-old had sustained swelling to his left eye, with the impressive Whyte continuing to land a number of body shots on his opponent before delivering another huge uppercut in the eighth.
Whyte looked on course for a straightforward victory, but the bout threatened to turn on its head when Rivas sent Whyte to the canvas following a huge uppercut in a spellbinding ninth round.
A shaky Whyte returned to his feet, but with 50 seconds of the round remaining, Rivas sensed a finish, unloading on his fragile opponent and landing a huge right.
Whyte scrambled to the bell before navigating his way safely through the remaining three rounds to the unanimous verdict.
Speaking in his post-fight press conference, Whyte said he would take the time to prepare for a shot at the world title.
"We're not just going to jump into it, we need a proper camp, we need to train properly, we need to be strategic.
"I'm number one for a reason, as I keep proving. So they are going to come to us correctly, give us time to prepare.
"We need time to prepare for someone like that because Deontay Wilder is long, he's rangy, we're not going to go into that fight at four weeks' notice, we need proper time to prepare and get everything done properly and correctly."
The 31-year-old also said he was not hurt by the ninth-round knockdown.
"I ended up crossing my legs, I was trying to cover the distance quick enough... I just crossed my leg but it won't happen again.
"I wasn't hurt, I got back up and I won the rest of the round and I won every round after that," he added.
Earlier in the night, Dave Allen was taken to hospital after being forced to retire against British rival David Price after the 10th round.
Promoter Eddie Hearn addressed Allen's injuries in Whyte's post-fight press conference, saying he thought the 27-year-old suffered a broken orbital bone and some damage to his tongue.
"He's undergone brain scans, which we believe isn't a major issue, and believe he's going to be OK," he said.
Allen later tweeted to say he was "probably done" now.
"Dont want anyone to worry about me, just a hard man gone old and soft the last 18 months, very happy and proud of David price, I will be okay but the last 12 months or so my health has been deteriorating and I'm glad I hung on took the chance and made money and now probably done," he said.