Warren Gatland hailed Wales' strength in depth as his side claimed an eighth straight victory by dismantling Tonga 74-24 in Cardiff.
Wales' winning sequence is their longest since the 2004-05 season, and victory over South Africa next weekend would complete a first autumn Tests clean sweep.
Gatland's second string ran in 10 tries and scored 50 second-half points, and the Wales coach accepts there will be heartache for several squad members when it comes to World Cup selection next year.
Cystadleuaeth syfrdanol yn y brifddinas, gyda digonedd o geisiau. pic.twitter.com/CEj2QaH5jv
— Welsh Rugby Union 🏉 (@WelshRugbyUnion) November 17, 2018
"There were a lot of players out there who did that," Gatland replied at his post-match press conference when asked about who impressed him.
"As the game went on a lot of those individuals got better and more comfortable, especially in that second half.
"There's definitely some real questions in terms of picking the (World Cup) squad.
"We've got 40 players and you think eight or nine of them are going to miss out on the World Cup squad.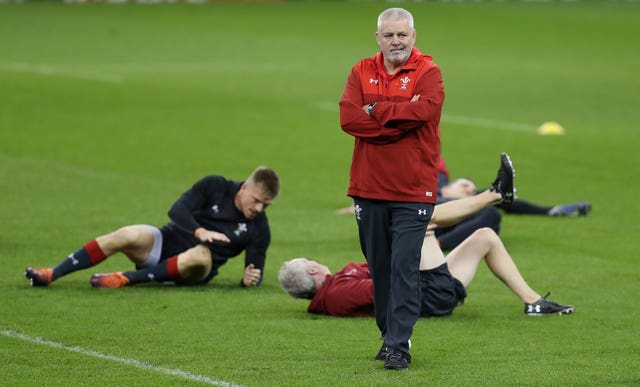 "Some players are very aware of how important the next six months are.
"We're in a good place at the moment. We're building nicely and there's some good competition."
Tonga, beaten on all eight previous encounters against Wales, gave the hosts a scare by wiping out an 18-point lead.
But that was the signal for Wales to cut loose and post their highest points total since beating Namibia 81-7 during the 2011 World Cup in New Zealand.
Wales have now beaten Scotland, Australia and Tonga this month, and have never completed an autumn whitewash since the four-Tests schedule was introduced in 2002.
"We put ourselves in a bit of a hole and dug ourselves out of it in the second half with some outstanding rugby," Gatland said.
"We spoke at half-time that in previous games in the autumn we have started well against teams and allowed them to score points.
"That group of players did a fantastic job. We knew in Test match rugby sometimes it just does not happen.
"It can take 50 or 60 minutes to wear a side down and we were able to capitalise on that."
Saracens wing Liam Williams bookended his 50th international appearance with two tries.
"It was very emotional," Williams said.
"When Dan Biggar said congratulations to me as I ran out for the anthems, I got very emotional and had to fight back the tears.
"As a team we could have done more, but overall to win my 50th cap and score two tries makes it a superb afternoon."
Tonga were reduced to ruins by the end of a game in which they simply ran out of steam.
But coach Toutai Kefu insisted Tonga, who are in England's World Cup group and provide the first opposition for Eddie Jones' side there, will be competitive in Japan next autumn.
"We've got potentially 16 to 18 people missing out of this group of 30," said Kefu, the former Australia number eight.
"Out of this group of 30 I could see only five or 10 people going to the World Cup.
"We get our talent back and sufficient time to prepare, and those two things would hugely increase our chances at the World Cup."